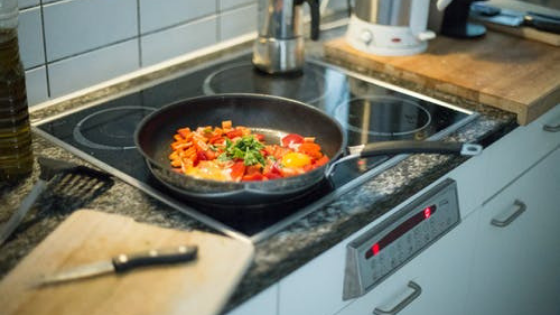 What's the worst part about cooking? Cleaning up, hands down. Folks in Plano know that it's hard enough to get a quality, satisfying meal on the table. But then when it's done, the cleanup takes forever! Our favorite solution to the cleanup dilemma? One-pan dinners! Limit your mess by cooking all ingredients together on a sheet pan. Often the pan is foil-lined, making clean-up even easier. When dinner's done, the only clean-up you'll have to take care of is your single pan and whatever serving dishes you used in the process. And if you're really in a hurry, use disposable plates and flatware to further reduce clean-up time. There are plenty of one-pan meal recipes floating around Pinterest (not to mention the broader internet). Here are three of our favorites.
3 of Our Favorite One-Pan Meals
Rosemary Balsamic Chicken
The name of this dish, Rosemary Balsamic Sheet Pan Chicken with Bacon and Apples, tells you just about everything you need to know. Mix balsamic vinegar, olive oil, lemon juice, crushed garlic, and chopped rosemary with the title ingredients and halved Brussels sprouts. Chop everything solid, coat with a mixture of the rest, and then bake. If you've never roasted Brussels sprouts before, you'll be amazed at the flavor you get out of them.
Jambalaya
If you're looking for something a little more soulful, check out this awesome Sheet Pan Jambalaya. No, it's not in soup form. Yes, it's totally delicious! It's all the things you love about jambalaya – bell peppers, tomatoes, onions, shrimp, sausage, rice, and Creole seasoning. It's drier, but not dry, still packed with all the flavors you love.
Roasted Vegetable Chili with Cornbread Biscuits
We couldn't believe our ears, or our taste buds, when we first discovered this recipe. Biscuits baking right on top of delicious chili? And vegetarian, too? There's no downside! (OK, maybe one: you need a bowl to knead the dough, so technically that's two dishes.)
We hope you enjoy these three easy clean-up dinner suggestions. Are you interested in learning more about what our apartments in Plano, Texas have to offer? Contact us today to discuss how we can meet your needs.