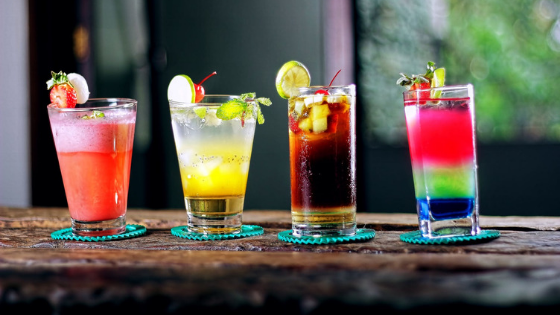 Whether you are cutting back on booze for health reasons or avoiding alcohol altogether, not drinking can make you can feel like an outcast in some social situations. The next time you don't want to partake, skip the club soda routine, and ask the bartender to whip up one of these nonalcoholic cocktails that are worth drinking.
Three Nonalcoholic Cocktails You'll Love to Try
Rhubarb Shrub Cocktail
People have been drinking sweetened vinegar for hundreds of years as a health tonic, but shrubs make a tart and complex drink, too. To make the rhubarb shrub, stir together one cup of fresh, diced rhubarb and one cup of sugar in a bowl. Cover and place in the fridge. Stir twice a day for three days, then mash and strain off liquid. Add an equal amount of apple cider vinegar to the liquid and store in a covered container. To make the cocktail, pour two ounces of rhubarb shrub into a rocks glass with ice and add four ounces of club soda. Mix gently to combine. Serve with a sprig of thyme.
Cider and Thyme Tonic
This cocktail beats straight tonic water every time. Prepare the thyme-flavored simple syrup by combining 1/2 cup each of sugar and water in a small pan. Over low heat, stir constantly until sugar dissolves. Drop in two sprigs of thyme and simmer while stirring for five minutes. Strain and cool. For the cocktail, pour four ounces of apple cider and 1/2 ounce of thyme simple syrup into a rocks glass with ice. Stir to combine. Top with tonic water and serve with a lemon twist.
Old Fashioned
You can make a convincing, booze-free version of this classic by substituting over-brewed barley tea for whiskey. Brew a cup of barley tea for 20 minutes. Cool completely. Put one teaspoon of extra-fine sugar in a rocks glass. Add two to three drops of bitters (regular or made without alcohol) and two ounces of barley tea. Stir to combine. Serve with ice and a cocktail cherry.
Are you searching for apartments in Plano with a quick commute to Dallas? Creekside at Legacy offers residents an exceptional living experience. Call today to schedule a tour.