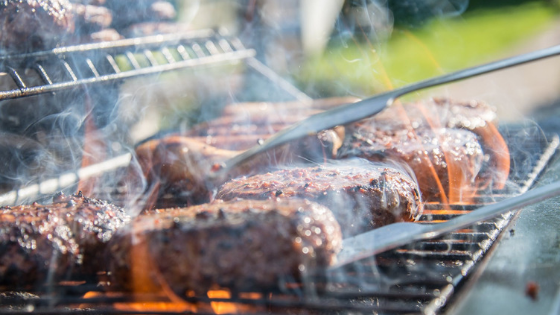 Everyone loves a sizzling barbeque feast, especially when some of the best Plano, TX apartments have community outdoor kitchens and gleaming grill stations standing like sentinels of the great outdoors. Carefree barbeques with family and friends get even better when you know how to keeps things healthy, nourishing and safe. So crank up the heat and bring on the fun with these hot tips for new-day grilling.
Know Before You Go
Before heading out to the grill, a few simple precautions can make or break the day. Even if you're barbequing under a partially shaded canopy, don't forget the sunscreen! It keeps you from getting blistered and prevents skin cancer, so why take the risk? Unrefrigerated food needs a limit of two hours, and if temps hit 90 degrees, make that one hour. Cover all foods to keep away bacteria from tiny little insect feet.
Low-Down on High Heat
Warnings about charred meats have swirled for decades, and for good reason. Cooking with high temps, direct flames and smoke has been linked to cancer-causing HCAs and PAHs. However, there are plenty of ways to mitigate the risks without giving up the grill.
It's okay to sear the meat at high heat for a couple of minutes to seal in the juices, but then turn it down to medium to avoid charring. When fat hits the burners below, the rising smoke can deposit chemicals right onto your juicy masterpiece — so line the grill with aluminum foil and cut a few slits to minimize the smoke. Trim off charred bits before serving.
Marination Jubilation
True-que grillmasters know that marinating meats is the best trick for decreasing the amount of HCAs while infusing flavor, tenderizing and adding moisture. Use olive oil and canola oils, lemon and lime juice, wine, apple juice or low-fat organic yogurts as a base before adding things like fresh-pressed garlic and chopped herbs. Basil, mint, parsley, rosemary and thyme all add flavor without fat and calories.
What Hits the Grill
Choose chicken, fish or shrimp as a healthy alternative to red meats. You can even partially cook the pieces and finish them off on the grill for that flavor you love. This cuts down on direct-flame time and ensures evenly cooked meats. Plop more veggies on the grill as well, as they don't produce HCAs and balance out the flavor sensation. Center them in a foil tent to seal in the herbs, spices or marinade.
Regardless of the time or season, apartments in Plano are the perfect settings for lazy-day outdoor barbeques. There's no reason to avoid the special memories they bring when you take just a few precautions. Healthy living is easy and life is what you make it – so fire up that grill!
Living in Plano puts you in the heart of the action, indoors or out. Visit one of our Plano apartment communities today for a tour and to hear about move-in specials!