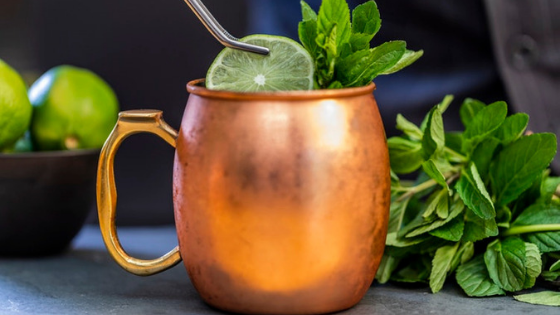 When the temperatures in Plano start to rise, consider reaching for a minty cocktail. Why? Because, according to The Washington Post, the taste of mint can actually trick your brain into feeling cooler. And, of course, mint cocktails — such as these two classics — are also very delicious. Even better, both of these cocktails are quick and easy to make.
Mint Julep
Every year, more than 125,000 of these cocktails are sold on Kentucky Derby Day at Churchill Downs.
Ingredients:
1 ounce mint simple syrup (recipe below)
2 ounces bourbon (preferably Woodford Reserve, which is what is in Churchill Downs' mint julep)
1 sprig of mint
Crushed ice
For the mint simple syrup:
1 cup sugar
1 cup water
11 sprigs of fresh mint
Combine the sugar and water in a pan and bring to a boil. Stir often, until the sugar has dissolved. Remove from heat and add the fresh mint sprigs. Then let cool. Pour mixture into a glass jar and allow to chill for 24 hours in the refrigerator.
Instructions:
Pack a double old-fashioned glass or a julep cup with crushed ice.
Pour the bourbon and simple mint syrup over the ice.
Stir.
Garnish with a sprig of fresh mint.
Mojito
Refreshing and light, the mojito is, arguably, Cuba's most famous cocktail.
Ingredients:
6 ounces light rum
10 to 12 mint springs (approximately 7 torn into pieces)
6 tablespoons lime juice (preferably fresh)
6 tablespoons sugar
Club soda
Lime, cut into slices
Ice
Instructions:
Muddle the torn mint sprigs in the shaker.
Pour in the rum, lime juice, sugar and ice.
Shake well.
Add ice to a highball glass, then pour in your cocktail.
Top the glass off with a splash of club soda.
Garnish the glass with a mint sprig.
Minty cocktails aren't the only way to beat the heat. At our apartments in Plano, we are proud to offer residents two refreshing salt water pools as well as a newly upgraded cardio theater and fitness center, so you can still get your exercise even when the temperatures outside may be unbearable. To check out these and all our other amazing amenities, please schedule a visit with us today.