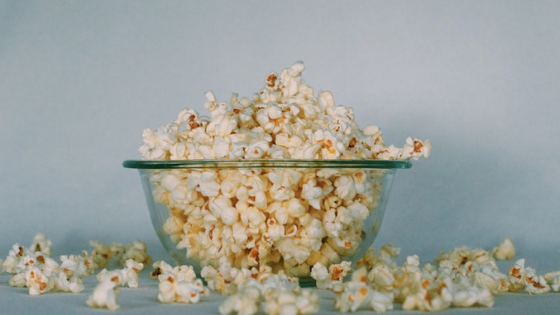 Most people never get very adventurous with their popcorn. They may drizzle a little butter and salt on their popcorn, but that's about it. But popcorn actually makes a wonderful blank canvas for a host of flavors. So, next time you're staring at a plain bowl of popcorn, why not try one of these delicious recipes.
Festive & Fun Popcorn
Ingredients:
6 to 7 ounces of white chocolate candy melts (melted)
8 to 9 cups of popped popcorn
Colorful sprinkles
Directions:
In a bowl, mix the popcorn and the melted white chocolate.
Mix sprinkles in before the chocolate has time to harden.
Spicy Sriracha Popcorn
Ingredients:
1/4 cup melted butter
2 tablespoons Sriracha
1 clove garlic, finely minced
8 to 9 cups of popcorn
Directions:
In a bowl, use a whisk to mix melted butter, Sriracha and minced garlic.
Pour the mixture over your popcorn and toss to mix.
Marshmallow Popcorn Fun Balls
Ingredients:
1/4 cup butter
40 marshmallows
1/2 teaspoon vanilla
12 cups of popcorn
Directions:
In a saucepan, melt the butter.
Add the marshmallows and vanilla to the pan. Stir constantly until the marshmallows are completely melted and ingredients are thoroughly blended together.
Pour popcorn into a large bowl.
Cover the popcorn with the marshmallow mixture. Toss until the popcorn is evenly coated.
Lightly grease your hands and then separate the mixture into 10 balls, approximately 3 inches in size.
Place on a sheet of waxed paper and allow to stand until firm.
Ranch Dressing Popcorn
Ingredients:
4 tablespoons melted butter
1 ounce packet of ranch seasoning
16 cups popcorn
2 tablespoons chives
Salt
Directions:
In a bowl, mix the melted butter and ranch seasoning together.
Pour the mixture over the popcorn and toss until well mixed.
Sprinkle with the chives and salt.
These delicious popcorn snacks are the perfect pick-me-up after a long day at work. Also, a great pick-me-up? A refreshing swim in a pool. Don't have access to a pool? Then, please come check out our apartments in Plano. Not only do we have one beautiful pool; we actually have two refreshing saltwater pools to choose from. Our community is also pet-friendly and boasts a newly upgraded cardio theater and fitness center.