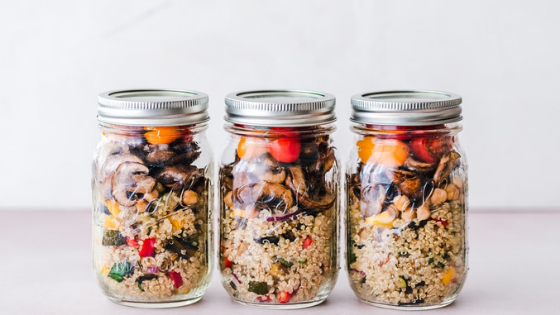 Eating a healthy diet has a lot to do with understanding nutrition and having adequate willpower, but taking the time to plan ahead and prepare meals can be just as important.
Here's what you need to know for the best meal prepping practices at home.
Top Meal Planning Preparation Tips for Healthy Eating
1. Ensure you have the proper gear.
By gear, we generally mean the tools needed to clean, chop, and prep quickly and efficiently. We also mean the appropriate storage accessories.
For most healthy meals, you should have a set of sharp knives, a colander or two, cutting boards, and equipment for cooking (pots, pans, cookie sheets, etc.).
In terms of storage, it's best to store your prepared meals in glass storage containers with tips. Glass is see-through, more durable, and long-lasting. It can also be used for reheating in most cases.
2. Don't prepare too much.
Getting the amount of food you'll need for the week exactly accurate can be difficult. Who knows when you'll be invited out for dinner or just won't feel like eating a meal you've pre-prepared.
Still, it's best to keep things on the "too little" side as opposed to making too much. That way you won't waste. To start with, prepare meals for the next three days. And remember, you don't have to prepare all of your meals in advance. Just focus on dinners to start with, for example.
3. Choose foods that keep well.
Preparing a burrito or sandwich with sauce three days in advance isn't advised. These foods don't keep so well. Instead, prepare foods like salads, soups, stews, and meat and vegetables.
4. Make sure you have a highly equipped kitchen.
Your kitchen is where you'll be preparing all your meals, so make sure it's outfitted with everything you need. Most of all, you'll need a nice stovetop, oven, microwave, fridge, and freezer.
If you're still looking for a well-appointed, nicely designed kitchen that meets your needs, check out our Plano, TX apartments! Our apartments feature everything you'll need to make meal prepping a breeze. To learn more and find the ideal apartment for you, call our office today and find out what floor plans we have available for rent.